The Zergotech Freedom has a lot to offer. Explore what makes this keyboard unique.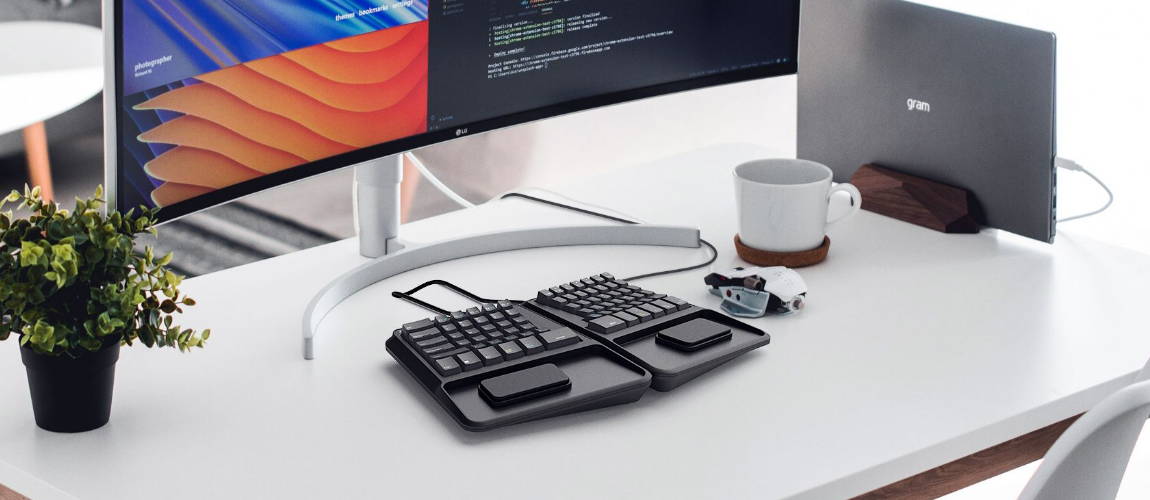 Simple yet effective, our Sliding Palm Rests form the core of our design. The freedom to hover your hands around the keyboard eliminates any awkward wrist movements that are the main source of RSI and typing related pain.The size of the slider bay provides enough room for the Sliding Palm Rests to roam around the keyboard while keeping your wrists and forearms aligned at all times. Your fingers will always have enough room to strike any key without over stretching on higher rows or uncomfortably compressing on lower rows.
A joy to use, these sliders will make you want to type!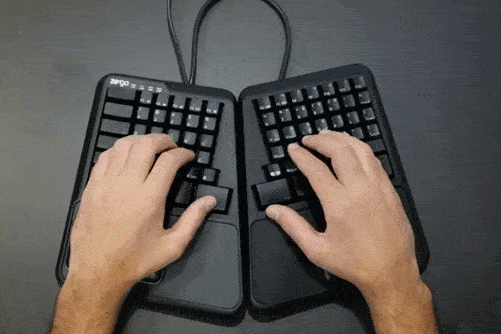 The Freedom in action. Palms and wrists remain aligned with your forearms as your fingers roam free.


Any and all directions. No key too far. Cushioned with a premium gel pad and protected with synthetic leather, you have not experienced a more comfortable palm rest.

*Slim Profile Sliders are provided with the keyboard. Video shows Tall Profile Sliders which are an optional extra purchase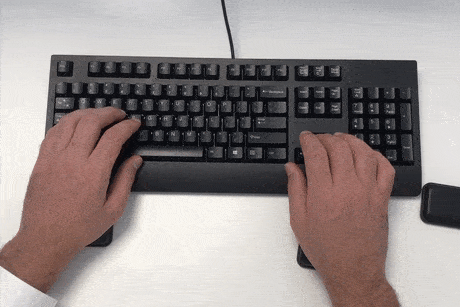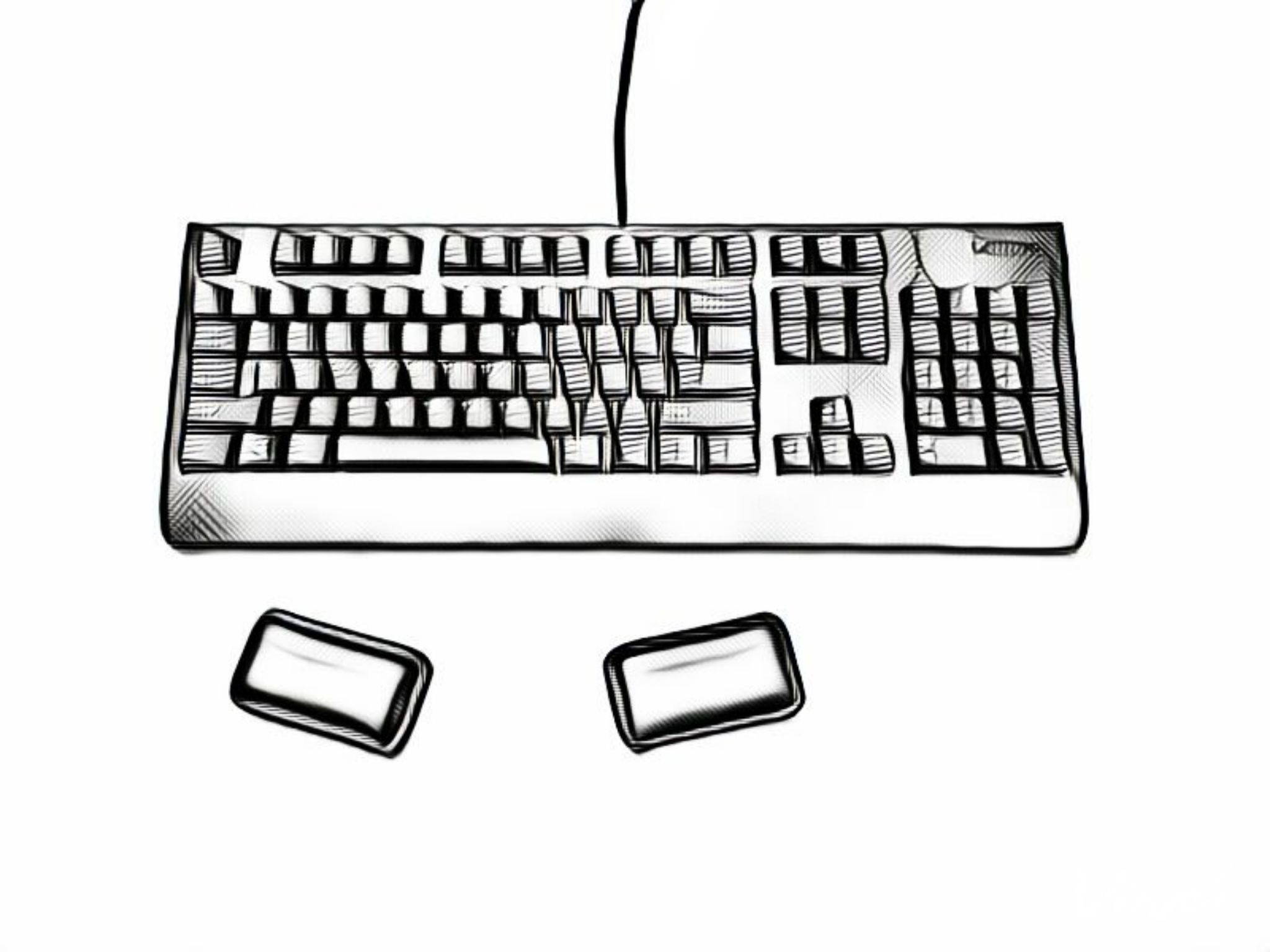 Sliding palm rests can also be used with standard keyboards. While delivering some relief to wrist pain, the purchase of the Freedom keyboard delivers the complete and ultimate solution. Individual sets can purchased separately.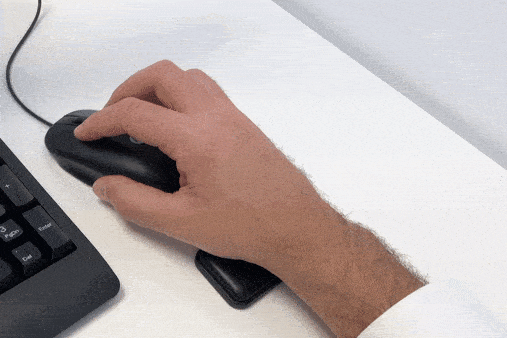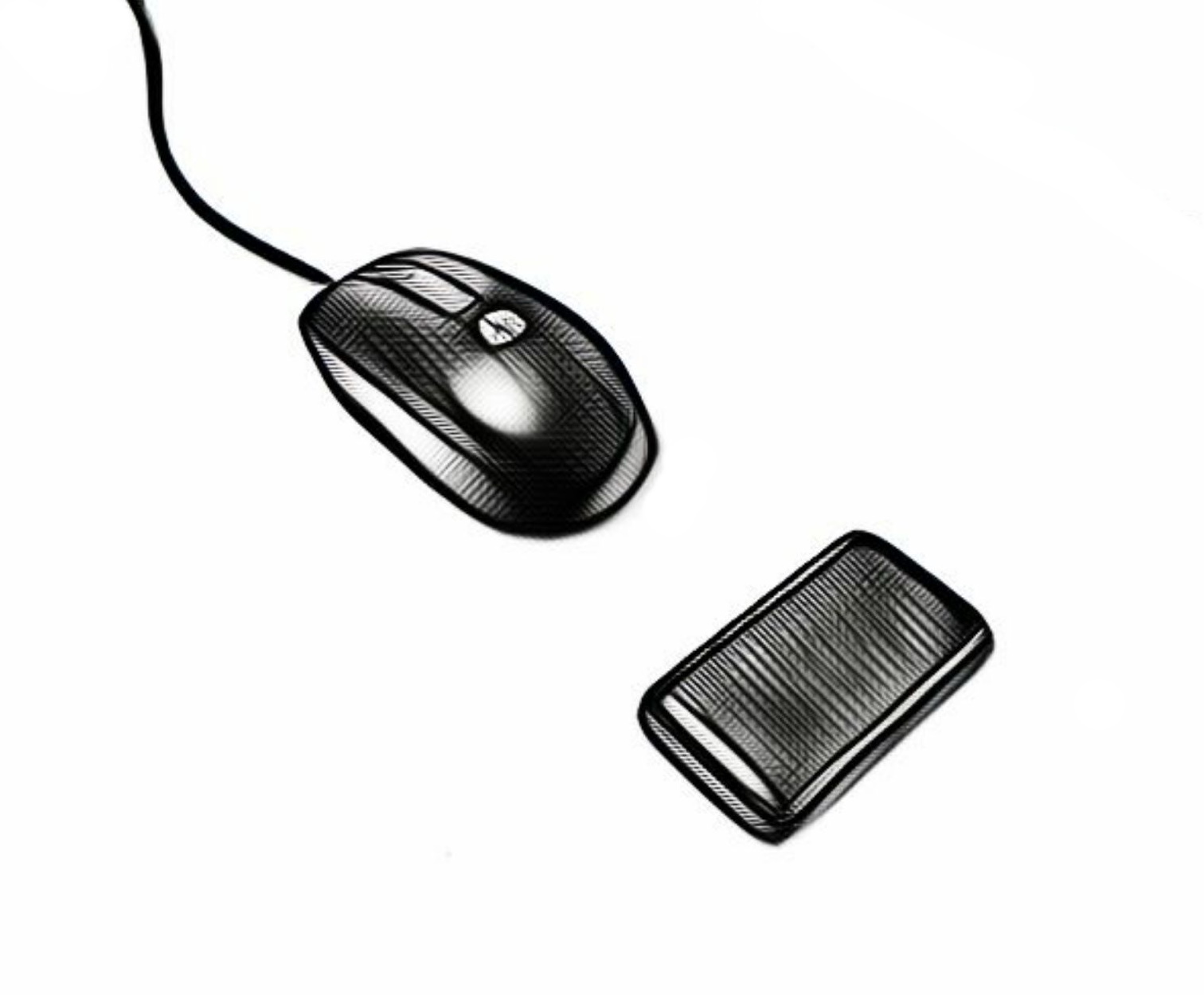 Sliding palm rests are also effective in reducing wrist pain associated with mice. Your hands remain aligned while eliminating painful horizontal deviations of the wrist

The Freedom may be used with an additional and optional set of Fixed Palm Rests for your preferred choice. The Fixed Palm Rests and Sliding Palm Rests are interchangeable with one another at any time without any tools or fixings required.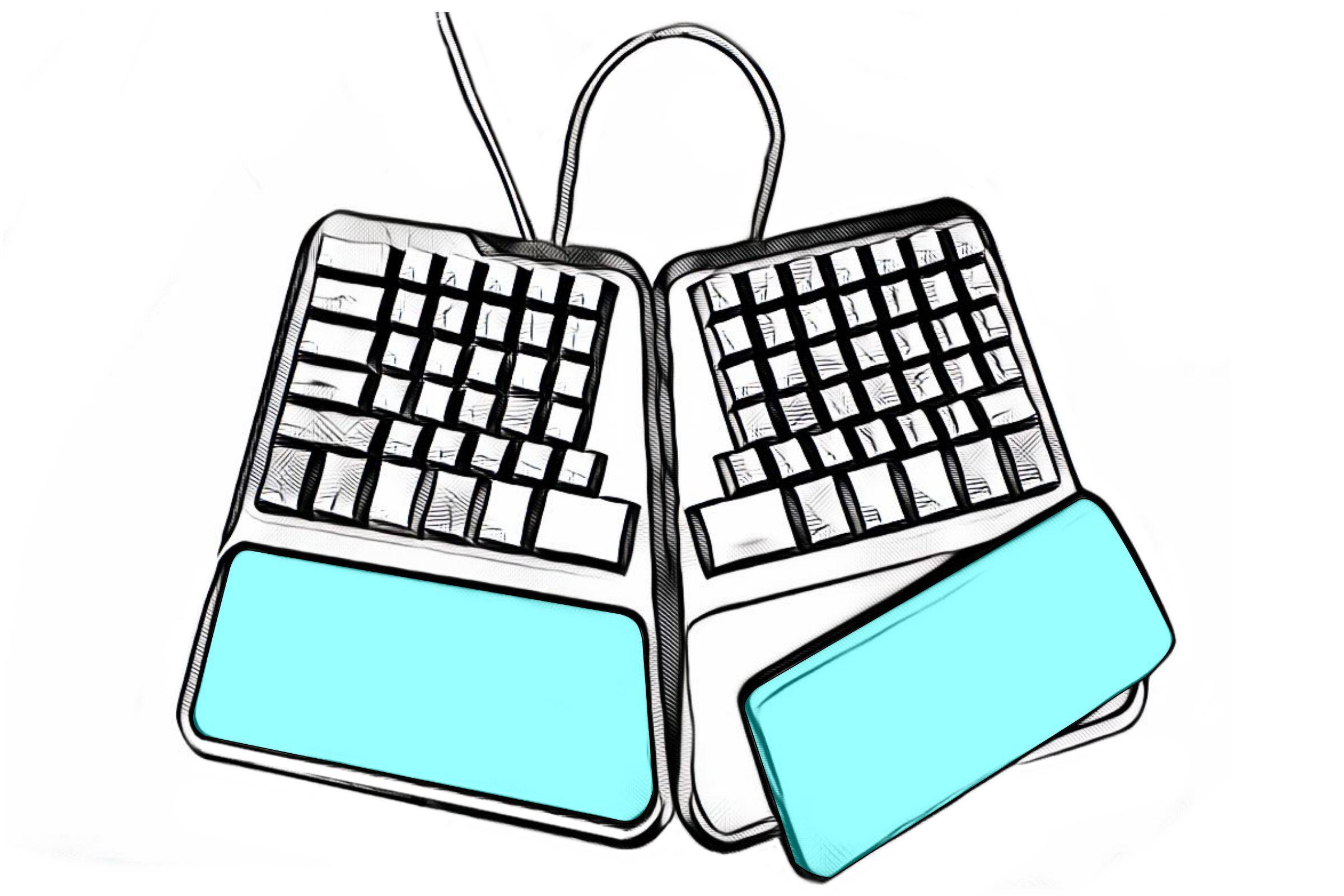 Fixed Palm Rests are provided as an alternative to the Sliding Palm Rests. They are designed to fit snuggly inside the slider bay, and are interchangeable with the Sliding Palm Rests at any time.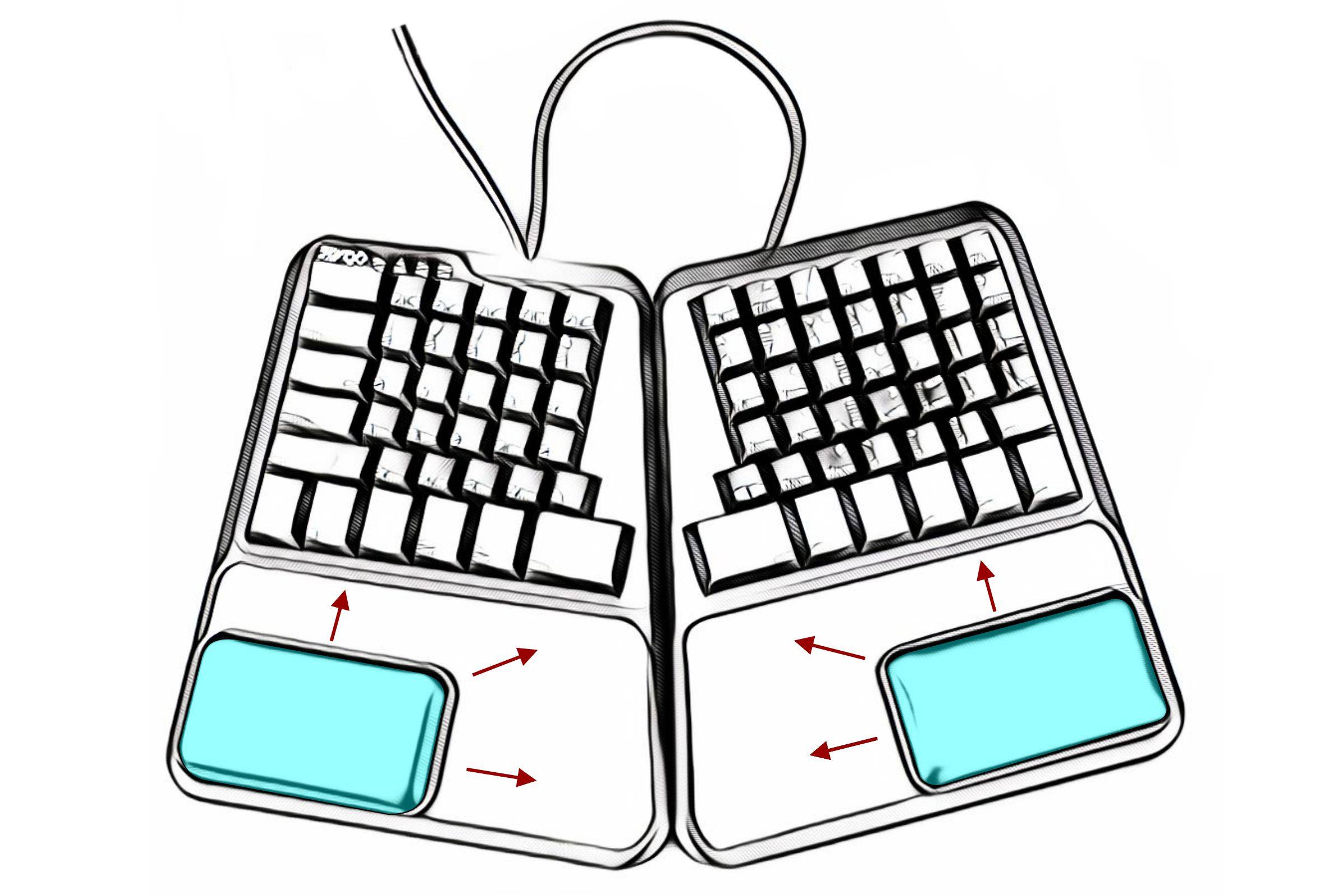 The Sliding Palm Rests are given plenty of room for movement in their slider bay. Swap these for the optional Fixed Palm Rests at any time.

Assessments of desktop seated positions combined with study of natural wrist and arm angles shows that there is no single position that would satisfy every user. We designed the Freedom to have an optimal set of angles in its default position, including tenting, rotation, and incline.With four extendable feet, the Freedom accommodates any desktop setup, while the split design allows for any angle and any distance for a complete solution for your ergonomic needs.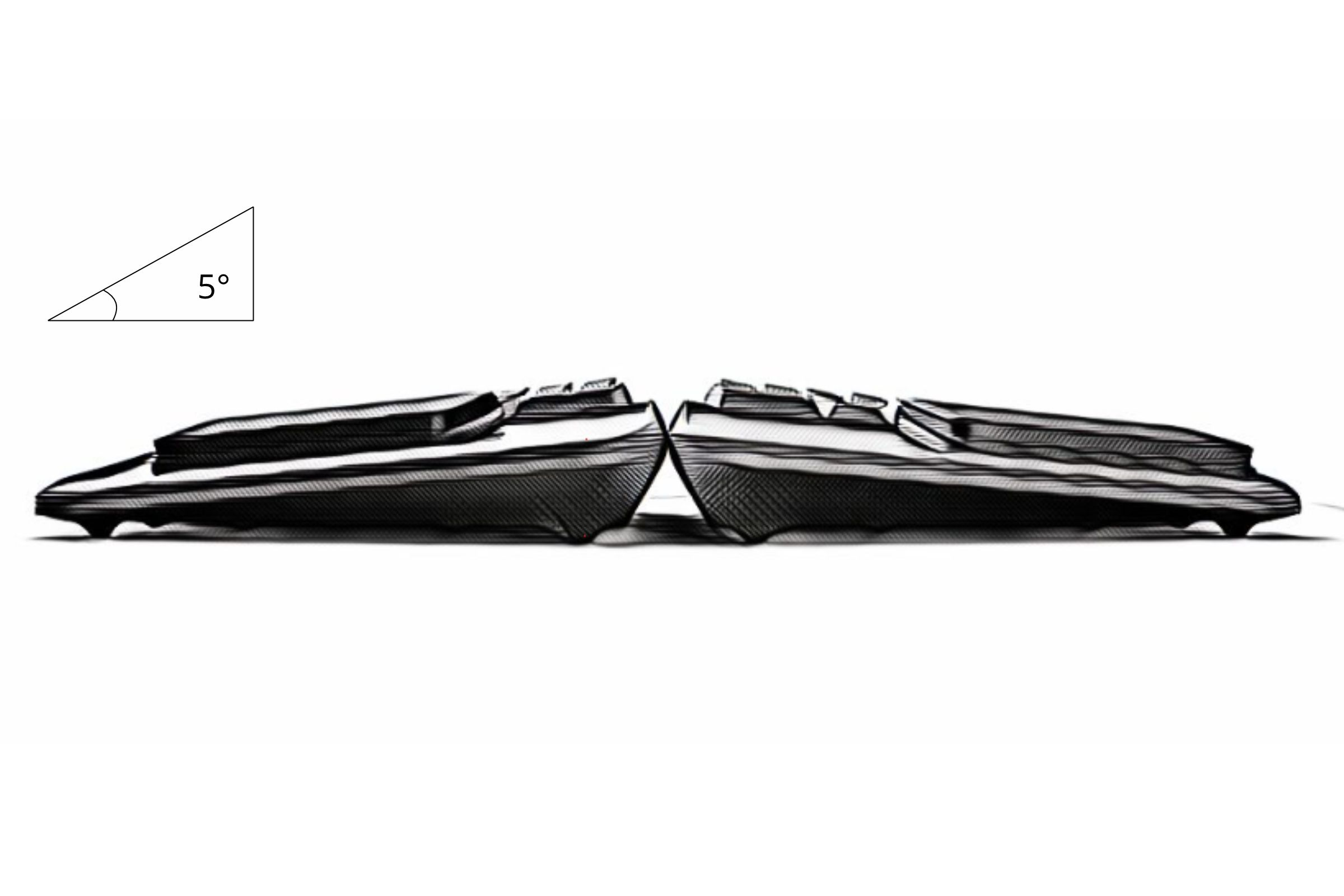 The default tenting angle is 5° away from centre. This ensures that at no time will your hands be completely pronated.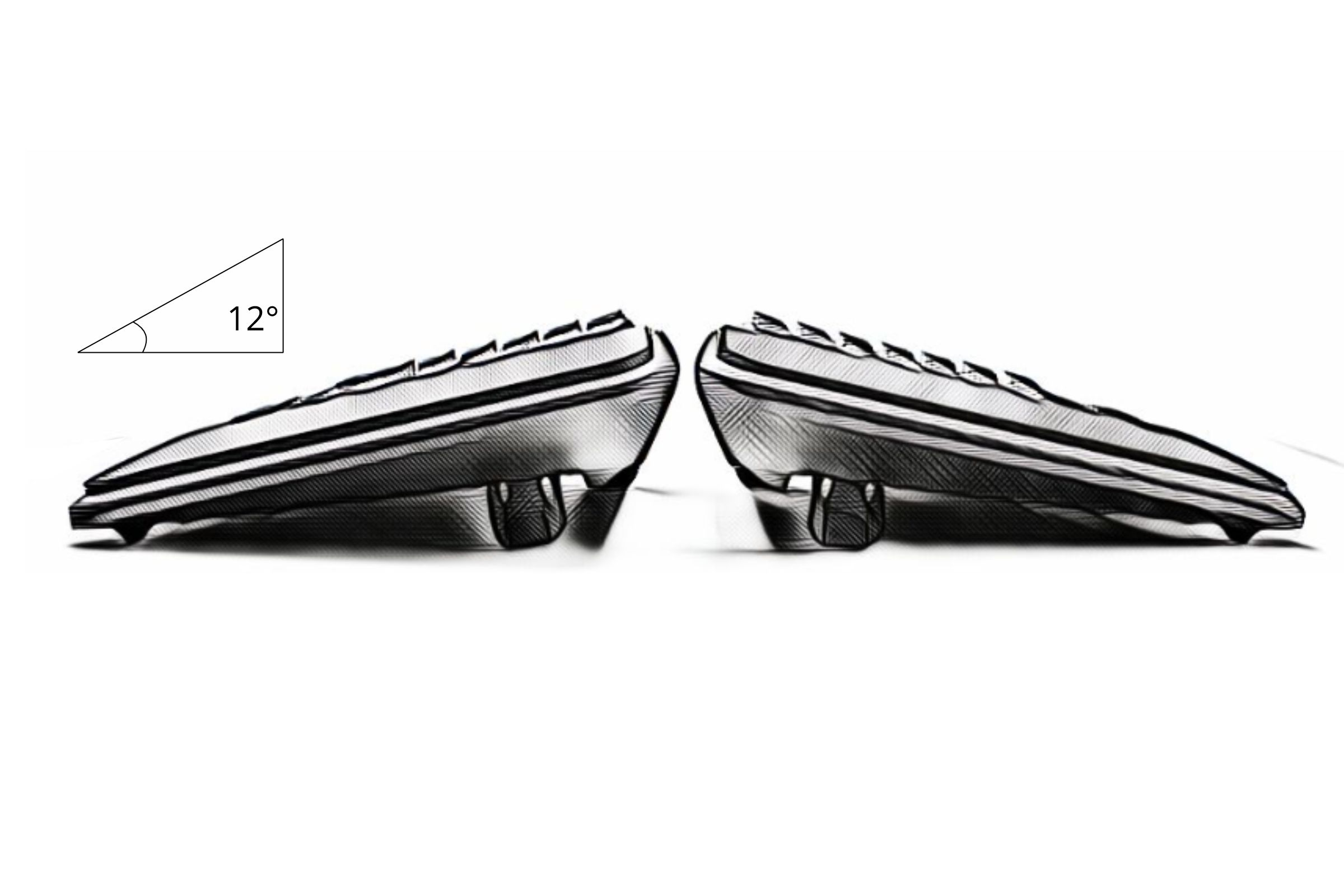 A more aggressive tented angle completely removes any pronation of your forearms and wrists.

A declined angle is provided for users whose seating position is higher relative to the desk. This ensures your forearms approach the keyboard at an aligned angle.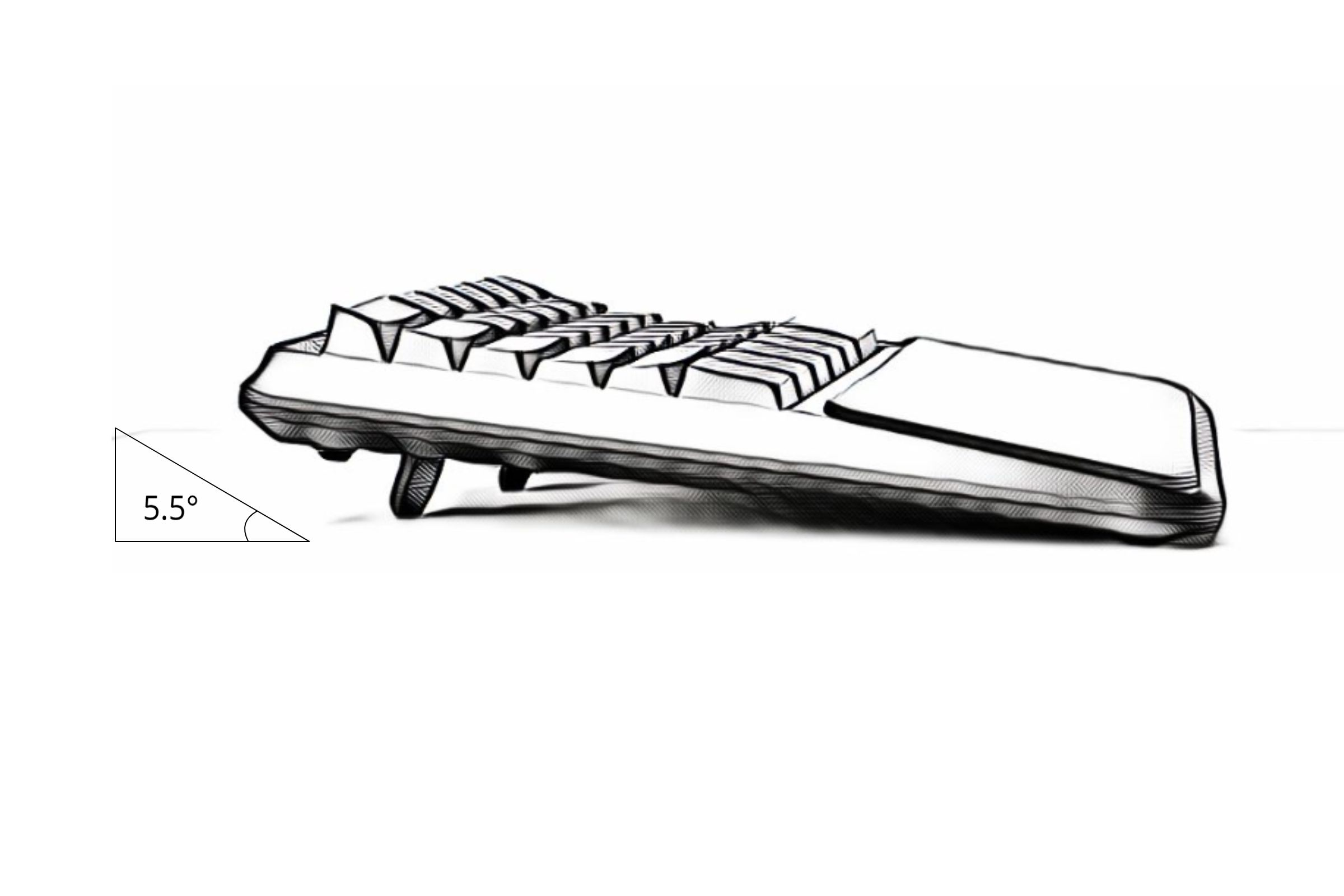 For users who sit lower relative to the desk, the Freedom provides an incline such that the keyboard meets your forearms at a naturally aligned angle.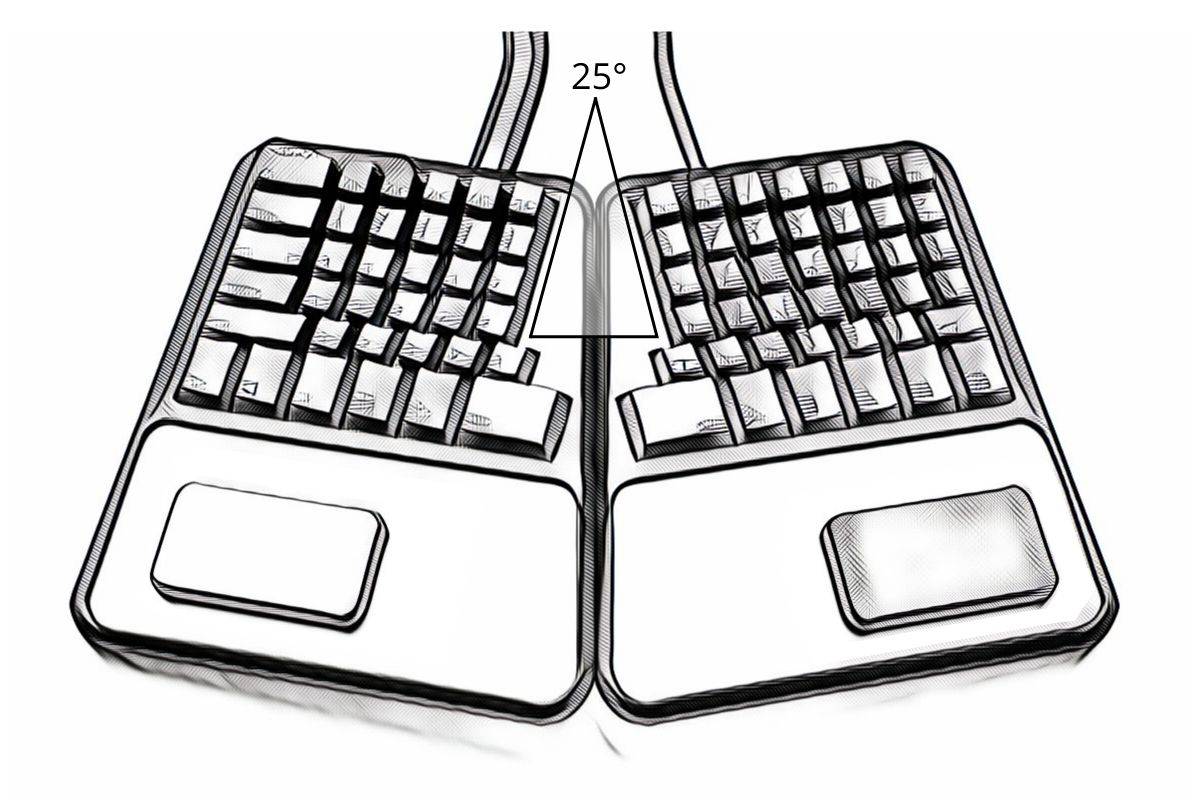 By default, the Freedom is configured at a 25° rotation ensuring your wrists are never in a stressed and deviated position. With your elbows by your side, the rotation of your wrists will be aligned naturally to the keyboard.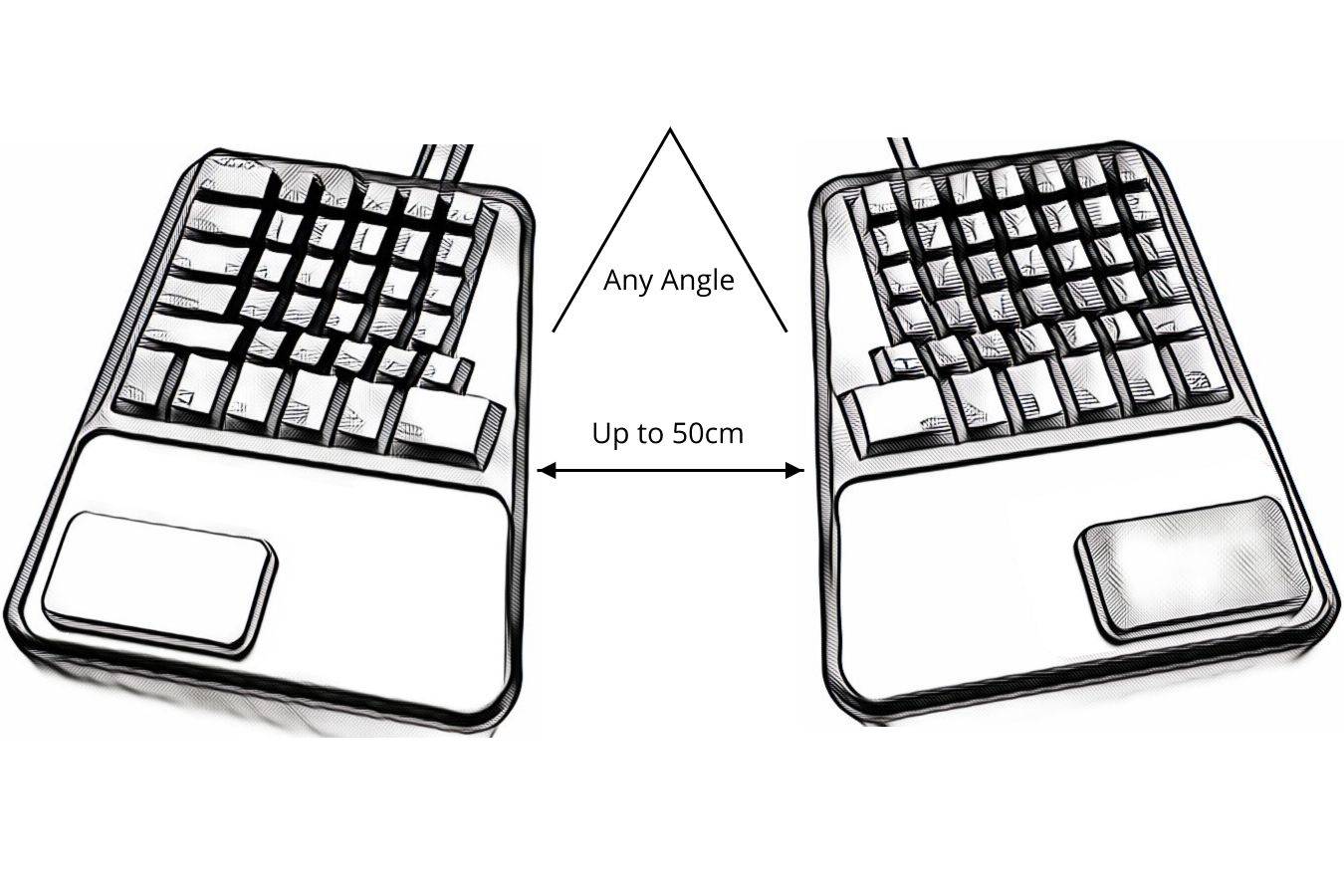 For users who seek the ultimate in ergonomics, a split keyboard at shoulder width is an optimal position. By widening the distance of the two boards, you can simultaneously open your chest, straighten your back, and align your forearms and wrists.

We promise a minimal learning curve with our design registered semi-orthogonal design. You will be surprised by such an easy and familiar typing experience.The semi-orthogonal layout was designed for optimal ergonomic benefits while providing the familiar typing layout you've come to learn with standard keyboards.
Other ergonomic keyboards have a completely alien approach. The Freedom's semi-orthogonal design only aligns the rows that are asymmetrical, while keeping already symmetrical rows unchanged.
Why an offset ZXCV row?
Both the home ASDF and bottom ZXCV rows already have symmetrical finger reach to each of their keys. The ZXCV row is evenly offset to the home ASDF row. So we've kept their original positions allowing you to type like you are used to.
As for the QWER and 1234 rows?
On standard keyboards, the rows above the home row are not evenly offset to the keys below, which creates an asymmetry of reach for your fingers. You have under-reach for your left fingers, and over-reach for your right fingers. We've aligned these by pushing the rows to the right. It just feels right.
Standard Asymmetrical Layout

The standard keyboard has all rows asymmetrically offset to the left. This is in addition to a distant F row, and short bottom spacebar row. The short spacebar row requires the thumb to be unnecessarily brought closer to the palm for extra reach for striking the keys.


The Freedom keyboard makes only limited changes. The home ASDF row and bottom ZXCV row key positions remain unchanged. By using the home row as the reference, the bottom row is already symmetrically offset for finger reach. The top numerical row and QWER row have been vertically aligned for symmetry of reach, while the F row has been brought closer for ease of reach. The bottom spacebar has also been made taller for easy striking by the thumb.